Workforce Intermediary Grantee: DC Central Kitchen
Since 2014, the Workforce Investment Council has invested in DC Central Kitchen's Culinary Job Training program to provide skills training, national culinary certification, job search assistance, and ongoing social service support to chronically unemployed DC residents.
Joseph graduated from the Culinary Job Training program last October after spending 16 years in and out of prison. Today, he works fulltime as a Banquet Houseman at the Washington Hilton Hotel. Within six months of employment, he increased his wages from $13.80 per hour to $15.00 per hour and became eligible for health and retirement benefits. "I have a job and a new life," Joseph said when asked about the impact DC Central Kitchen has had on his career and financial sustainability. "My life has changed forever."
Workforce Intermediary Grantee: Community Services Agency's Building Futures Program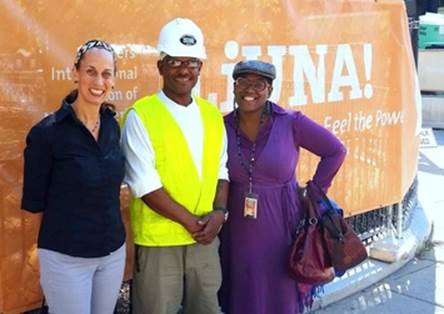 You might not immediately notice Darryl Shields among the hard-hatted construction workers, but the Community Services Agency's Building Futures team saw right away that the parolee was seriously focused on building a construction career. While in training with Building Futures (BF), Shields consistently demonstrated that he was ready to take on a new challenge in life and only two days after graduation, he was hired by a Cement Masons' Local 891 contractor to work at the Laborers International (LiUNA) building renovation downtown. "I can't thank you enough," he said excitedly when BF Job Developer Andrea Thompson and Case Manager Jennifer Gajdosik visited him recently at the LiUNA worksite.
"Building Futures has changed my life. I wish I knew about this program years back!" Shields was the first graduate from the 2015 summer class to be hired and is thrilled to now be a member of Local 891. "It's a 7-day job, but it's a great start," said Gajdosik. "I met his foreman, Bob, who was remarking about how early Darryl reports for work." The former inmate "strived to meet Building Futures standards, integrated easily into a group of younger classmates and completed the 6-week Pre-Apprenticeship Program with great success!" Gajdosik added.
Darryl moved forward in his career and is now a Clark Concrete employee and second year apprentice at the cement masons Local 891, working at the Wharf. His supervisors have great things to say about him and he has become a great ambassador for the program.